Disposing of empty toner cartridges instead of recycling them?
We clear up the prejudices:
The continuously increasing number of consumers who want to dispose of empty toner cartridges and have them recycled in the process shows us that consumers are becoming increasingly sensitive to the waste of resources. The GeldfuerMuell principle of "recycle instead of dispose" is gaining more and more followers, to the benefit of the environment. But there could always be more, because unfortunately most of all empty printer cartridges and toner cartridges end up in the rubbish when they are disposed of! Obviously, there are still far too many prejudices circulating that lead to consumers not taking the first so important step that would kick-start the recycling chain. With our many years of experience as remanufacturers, we would like to clear up the most common misconceptions on the subject of "disposing of toner cartridges".
Prejudice 1: "Consumers must dispose of toner cartridges as hazardous / special / problem waste".
According to the Federal Environment Agency, toner cartridges do not contain any pollutants in most cases and are therefore not to be disposed of as hazardous waste. This means that empty toner cartridges could "theoretically" be disposed of in the black bin or the residual waste bin. But this would mean that you have neither thought of the environment nor of the high market value of the cartridges. Empty printer cartridges are a commodity for which a remuneration can be paid for their return. The remuneration is based on the current market value.
Prejudice 2: "The municipal recycling centre or depot, collection stations for problem waste or hazardous waste are always the right address to dispose of toner cartridges".
This statement is only true to a very limited extent. Certainly, the recycling centres of the municipalities dispose of your toner cartridges properly and in accordance with the law. Unfortunately, the opportunity to reuse the empty cartridge is lost with this disposal method. If you take your empty toner cartridges to a recycling centre or the like If you dispose of your empty toner cartridges at a recycling centre or similar, it is only a matter of disposing of them and not of recycling them. For cartridges that are not listed in our purchase price list, however, this method is certainly recommendable.
Prejudice 3: "Empty collection boxes in the supermarket or electronics market (as for used batteries) are suitable for disposing of toner cartridges without any problems".
This claim can also be refuted. It may well be that this disposal method is one of the most convenient ways for the consumer, but what falls by the wayside is that collection boxes often do not lead the toner cartridges and cassettes to qualified recycling, and this is effectively doing the most harm to the environment. Moreover, the consumer thereby misses out on the chance to collect money for the empties. Geldfuermuell pays a remuneration for every cartridge that complies with our purchasing conditions. As a customer, you can decide whether you want to put this money into your own household budget or use it to help someone in need and do a good deed.
Prejudice 4: "After being returned to the manufacturers, the toner cartridges are reprocessed and recycled".
It is obvious that the interest of the manufacturers of original toner cartridges (OEM) is often rather the opposite. Take-back / return systems therefore often lead to the destruction of the cartridges together with their valuable materials. After all, the profits they make from the original printer materials are much higher than those from the printer or fax machine. There is also serious evidence that certain chips are inserted into the original cartridges by the manufacturers themselves, which make it impossible to operate the printer with non-original cartridges, as these can damage the machine.
Recycling is safe - dispose of toner cartridges without risk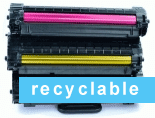 The fact is: remanufactured or refilled cartridges are of equal or even better quality than original ones. Consumers do not run any risk when using printer cartridges that were once recycled as empties and refurbished into new ink cartridges. Neither the printing result nor the technical integrity of the printer are affected. The Federal Environment Agency therefore recommends using remanufactured toner cartridges. To do this, the empty cartridges must be made available for reprocessing as a matter of priority. There is no way around making this first step the responsibility of the consumer. They decide whether the toner cartridges can be reprocessed, refilled and returned to the value cycle after disposal. Viewed in this way, you as a consumer are an important factor in deciding whether the recycling chain can begin for the product you are currently holding in your hands.
You too can earn money disposing of toner cartridges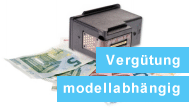 If you make the right decision when disposing of toner cartridges, you can also benefit financially. We will remunerate you for every empty cartridge you send in, provided it meets our purchase conditions. You can see at a glance from our constantly updated purchase lists what the remuneration is for the module you want to dispose of through us. If you cannot find the model of the toner cartridge in question on our lists, this means that we are unfortunately unable to pay any remuneration for it. With some manufacturer types, refilling is technically not possible or it is a brand for which there is currently no sufficiently high demand on the market. We are also unable to pay for defective toner cartridges that you wish to dispose of through us. This also applies to toner cartridges that were still intact at the time of shipping but have suffered damage during transport. Therefore, please make sure that you pack them carefully. Our tips should help you to do this.
Sell old sorted* printer cartridges!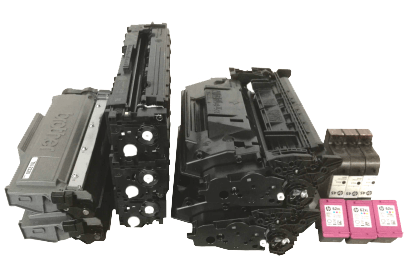 * Sorted by manufacturer and model, Purchase according to our buying price list.
Dispose old unsorted* printer cartridges!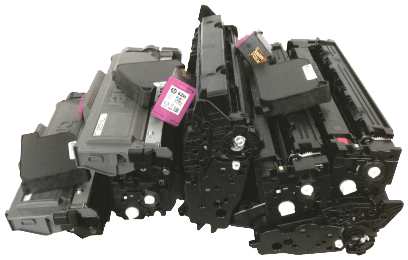 * Disposal of all Original Equipment Manufacturer modules, transport paid by sender.
---
Your shipment is here, what's next for the "Dispose and Recycle Toner Cartridges" project?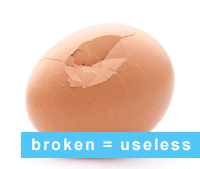 As soon as we receive your shipment, we first start sorting the goods. We separate intact cartridges from defective ones and check the empty cartridges to see whether they can be reprocessed and at what cost. Our aim is to refill as many empty cartridges as possible and then return them to the value cycle. Within a few days you will have your money in your account, so that you can profit financially from your ecologically sensible decision in a short time. The project "Dispose and recycle toner cartridges" thus becomes our joint task.
Join us in disposing of and recycling toner cartridges - your partner is a certified disposal company!

Have your toner cartridges disposed of through recycling. And to make it worthwhile not only for the environment but also for your wallet, we provide remuneration for the most common models. Use our handy search function at the top of every page!