Caution fragile: Please pack empty toner and printer cartridges securely for transport!
Only modules arriving undamaged will be remunerated!
Empty toner and ink cartridges are highly sensitive constructions. It is therefore important that you ensure safe transport packaging. The packaging must protect the contents of the shipment securely against stresses to which they are normally exposed during shipping (e.g. pressure, impact, fall or vibration).
With the following tips we would like to provide you with assistance for safe transport:
Use stable cardboard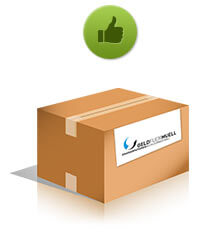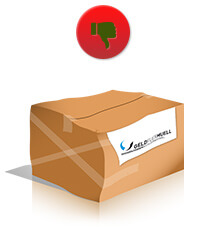 When transporting empty toner and printer cartridges to us, please make sure that you use a sturdy, transportable carton that is suitable for the weight of the contents.

Good suitable are for example moving boxes or undamaged boxes from your last online purchase.
Do not throw in the box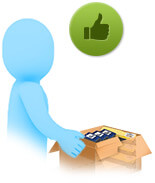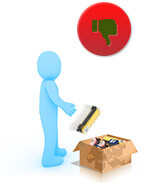 Place empty toner cartridges neatly and carefully side by side in the box. Never throw toner and ink cartridges! Also pad toner cartridges against each other.

There is a risk of damage to the casing if the cartridges knock against each other during transport.
Upholster the contents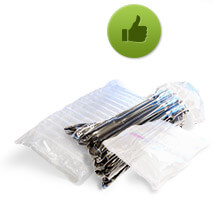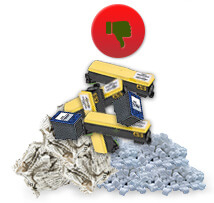 Pad the empty modules so that they are vibration-resistant! Ideally, each toner cartridge should be packed individually in the original bubble wrap (AirBag). Crumpled paper, bubble wrap or pillows are also suitable. Styrofoam or corn flips are unsuitable.

Do not forget to cushion the modules on the sides and on top.
Inks and toner separately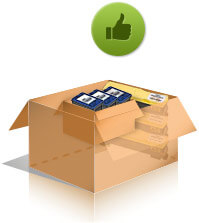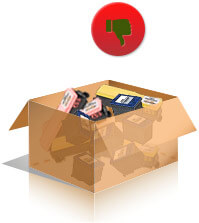 Pack toner cartridges and ink cartridges separately - preferably by carton in carton system. In this way you avoid contamination of the inks. The metal parts of the ink cartridges should not touch each other. Use paper as an intermediate layer to avoid scratches.

Do not tape the nozzles of the ink cartridges.
Do not forget the shipping ticket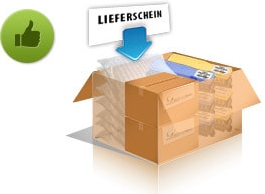 Enclose our fully completed shipping ticket with each parcel or pallet. Without this shipping ticket it is difficult or even impossible for us to assign the shipment to the correct sender.

You will receive the shipping ticket automatically as part of the shipping process.
Taped and provided with a warning notice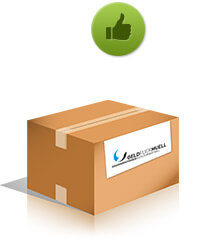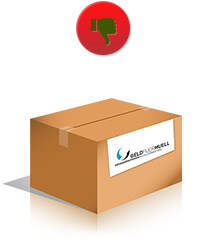 Tape the top and bottom of the packed box with wide adhesive tape. Inadequately glued packages can tear open during transport.

Mark each package with the words "Fragile, Do not throw, Protect from moisture". We have prepared a corresponding (warning) label for you to print out.
All done? Then you start the shipping process and get the shipment on its way...
---
We only buy undamaged printer and toner cartridges. After all, the empty inks and toners should be refilled. And this is only possible if the modules arrive at our premises undamaged! Inadequate packaging and padding causes considerable damage to the empty modules, especially if the cartridges collide during transport.
The amount of your remuneration depends on how well your empty inks and toners survive the transport to us: Damaged inks or toners will not be remunerated! By choosing the way of packaging you directly control the amount of remuneration by avoiding transport damage. Only securely packed empty modules ensure high remuneration. The following rule of thumb applies: When you shake the finished package, nothing should rattle any more!
This is what parcels look like on arrival with transport-safe packing:
Neatly packed, the gaps padded and all modules secured against flying around. We are happy to unpack such things!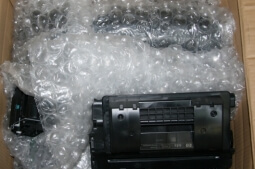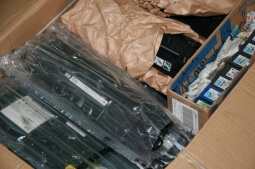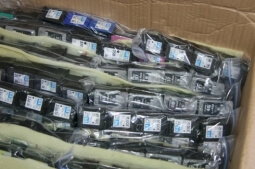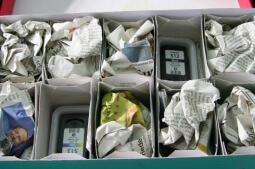 And what do packages look like when they arrive with the wrong packing method?
We also sometimes receive shipments where the empty toner cartridges have just been "thrown" into the box. Honestly, would you like to unpack something like that? Neither do we! At this point we would like to explicitly point out that such shipments soiled by leaking toner will not be remunerated.