Our conditions for purchase & disposal of empty printer cartridges and old toner cartridges
Please note:
Purchase & disposal
We only buy the empty printer cartridges and old toner cartridges or drums that are listed on our purchase price lists. And also only in the condition mentioned there (original empties, recycled empties, original full containers, etc.) and according to the criteria mentioned in each case (undamaged, unglued, unopened, etc.). We only buy cartridges intended for the European market.
The disposal of non-refundable but original toner cartridges of the brands listed in the purchase price list is free of charge for private or commercial consumers in normal household quantities (5 pieces per shipment). A disposal fee of €1.19 per unit (incl. VAT) will be charged for quantities exceeding normal household quantities or for quantities not originating from consumers.
The disposal of non-refundable ink cartridges is free of charge, regardless of the quantity.
For the disposal of toner bottles, waste toner containers and non-original toner cartridges (e.g. alternative brands, NoNames, replicas, refill or rebuild) a disposal fee of €1.19 per unit (incl. VAT) will be charged.
A disposal fee of €1.79 per kilogram (incl. VAT) is charged for the disposal of other types of waste (e.g. handsets of landline telephones, analogue cameras, batteries or other electronic waste).
Purchase prices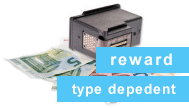 We always buy at the conditions of the valid purchase price list. The amount of compensation depends on the purchase price list valid at the time of arrival of the printer cartridges, toner cartridges or recyclable materials. The purchase prices can vary from month to month. All purchase prices are in Euro.
For recycling and empties dealers our purchase prices are only valid after prior consultation. Deliveries from recyclers and dealers in empties must always be announced in writing in advance and require our confirmation of purchase. In the case of larger quantities of empty printer cartridges, toner cartridges or drums, we reserve the right to refuse acceptance or to limit it to our requirements accordingly.
Packaging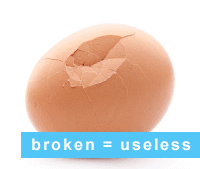 Printer cartridges and toner cartridges are only reimbursed undamaged. Most damage occurs during transport. Please pack your shipment securely for transport. Please pack cartridges or ink cartridges, which leak residual filling material, separately in plastic bags.
The shipper is liable for damage caused by improper packaging. Shipments with printer cartridges that are excessively soiled by leaking toner or ink will not be reimbursed but will be disposed of at a cost of €1.79 per kilogram (incl. VAT). The risk of loss and deterioration of the goods shall not pass to geldfuermuell GmbH until the goods are handed over and handed over at our business location at Bahnhofstrasse 26, D-91161 Hilpoltstein.
Each entry must be accompanied by our shipping ticket with your address data, your e-mail address and your telephone number. A listing of the contents is not required. The sender assures that he/she has the right to sell the goods to geldfuermuell GmbH and that he/she will obtain ownership of them. The sender further assures that the goods are free of any third party rights.
Shipping
The delivery of the goods (delivery) must be "free domicile", which means that all transport costs incurred must be borne by the customer. But we subsidize your transport costs with 5% of the remuneration value up to 50€ per shipment. For larger (pallet) quantities you can order a pick up through us. Above a certain remuneration value, the collection of pallets is even free of charge:
Prices for the pick-up service

Pick-up in Country
** Cost per Pallet
* Free of charge from
Austria
100€
500€
Croatia
140€
700€
Finland
180€
900€
France
135€
675€
Germany
50€
150€
Greece
210€
1050€
Hungary
130€
650€
Italy
110€
550€
Netherlands
120€
600€
All other countries
On request
On request
Remuneration
After receipt of goods, the old toners, empty inks and recyclable materials are subjected to a quantitative and qualitative incoming inspection by our specialist staff. Invoicing takes place within 7 working days (Monday to Friday) after receipt of goods, payment is made by bank transfer or by PayPal (If payment is made via PayPal, all (PayPal) fees and costs shall be borne by the payee). You will receive the invoice/credit note by e-mail and can also download it in My GfM.
Final provisions
The general terms and conditions of geldfuermuell GmbH apply exclusively, even if we have not expressly contradicted other terms and conditions. By sending or transmitting a collection order, you automatically accept the General Terms and Conditions of geldfuermuell GmbH, which are available at any time on the Internet at www.geldfuermuell.de. Both the sending of goods to us, as well as the placing of a pick-up order merely represent offers for the conclusion of a contract. The conclusion of a contract requires our acceptance in any case. We reserve the express and clarifying right to reject offers for the conclusion of a contract submitted to us to anyone without giving reasons.
Should individual provisions of these terms and conditions be or become invalid, the validity of the remaining provisions shall not be affected. The invalid provision shall be replaced by a replacement provision which comes as close as possible to the purpose of the invalid provision. All brand names and accessory designations listed are subject to the property rights of the individual manufacturers. They serve exclusively for illustrative purposes. If the contractual partner is a merchant, a legal entity under public law or a special fund under public law, Schwabach is agreed as the exclusive place of jurisdiction for all claims arising from or based on this contract. The same applies to persons who do not have a general place of jurisdiction in Germany or persons who have moved their place of residence or usual place of abode outside of Germany after the conclusion of the contract or whose place of residence or usual place of abode is unknown at the time the action is filed. Only German law is applicable.