Here you can sell used toners
Welcome to Geldfuermuell
You want to sell used toners and have found us as a purchasing point for printer empties! As a certified disposal company, we can offer you many advantages. Our customer-oriented service is just as much a part of this as attractive purchase prices for empty toners. Sell us your empties and benefit personally!
Sell toners when they are empty - here are some arguments for toner cartridge recycling
You are certainly also among the many consumers who are now very responsible with waste and who do not need to be convinced that empty printer cartridges should be recycled. Nevertheless, it is always interesting to look into the facts of how toner cartridges are produced. And if you can also make money selling toner, all the better for you.
Why you should sell used toner instead of throwing it away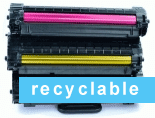 If you sell us the empty toner cartridges instead of throwing them away, you are behaving very responsibly and at the same time you are doing something good for your wallet. Waste separation and recycling are important issues nowadays that no one can ignore. Of course, it is also a matter of complying with the legal regulations that apply to waste recycling. But it has also long been in people's minds that the environment must be protected and resources conserved. The production of printer cartridges consumes raw materials that are not available in unlimited quantities. Take crude oil as an example. Several litres of it are needed to produce a single printer cartridge. In addition, the production of toner cartridges emits about 6 kg of CO² per unit. By returning empty cartridges, the environmental impact is reduced because no new cartridge needs to be produced. Instead, a used printer cartridge is recycled and returned to the retailer. This is a good thing!
More information? How the purchase of old printer cartridges works with us...
---
Sell empty toner cartridges instead of giving them away
Now you have already decided not to throw away any more empty printer cartridges. You would rather return the empty cartridges to the recycling system. In doing so, you are acting in absolute compliance with the law. The Waste Management Act stipulates that used toner cartridges must not end up in the rubbish. Manufacturers are obliged to take them back free of charge. Nevertheless, about 80% of the 55 million tonnes of toner cartridges are incinerated every year. Many consumers find it easier to go to the dustbin than to go through the hassle of returning toner cartridges to manufacturers - regardless of whether it is legal or not. Many probably also lack a certain incentive to collect the empty cartridges and send them to the manufacturer or carry them to the retailer. After all, there is nothing in it for the consumer. Strictly speaking, this approach even gives money away.
Sell toner and earn money
GeldfuerMuell GmbH makes the idea of toner recycling lucrative for you as a consumer! We pay an appropriate remuneration for every toner you sell us! This makes things even more interesting, doesn't it? You can sell us toners, earn money doing so, have complied with the legal regulations and do not become an environmental sinner! You don't have to give away empty toners - instead, you can sell them to us as a certified disposal company at an attractive price.
Don't throw it away - don't give it away - sell toner to Geldfuermuell
It only costs you a moment's time if you want to sell empty toners. Compared to returning them free of charge to the retailer - that is, returning them without remuneration for you - you need even less time. Only going to the bin would be quicker, but we've been there already. Let me remind you once again: It is forbidden to dispose of empty printer cartridges in the residual waste! If they are disposed of by returning them to the manufacturer or retailer, the consumer comes away empty-handed. This does not have to be the case. We buy your empties and ensure that the toner cartridges are recycled.
Profitable return: sell toner and have it recycled
If you would like to know how much profit you can make on toner sales, simply take a look at our Purchase price lists. Since we want to offer our customers the best possible service, we save you the trouble of calculating. With the

button you see next to the respective purchase prices on the price list, simply add all the toners you want to sell to the sales trolley. This also applies to printer cartridges, ink cartridges, cartridges, cartridges and recyclables - in short, all empty cartridges and cartridges that you have used up in printing, faxing and copying. The sales trolley adds up the individual prices and calculates the total purchase value. You can also see at a glance whether your return is free of charge.
Pick-up service for pallets and parcels when you sell us toner
Above a certain minimum purchase value, the transport of parcels and pallets is free of charge for you. We have currently set the lowest limit for the free collection of parcels at €30 (net) purchase value. For pallets or pallet cages, the minimum purchase value is 150€. If you achieve a higher purchase value with your return, simply fill in the collection order and then wait for the appointed parcel or transport service. It couldn't be more convenient.
Free collection:
Of parcels as of 30 Euro purchase value per parcel
Of pallets from 150 Euro purchase value per pallet
For shipping costs and collection of parcels and pallets outside Germany separate conditions apply!
...and one more important formality if you want to sell toners
In order to be able to assign each consignment to a sender without any problems, we need some information from you when you sell us toners. Each shipment must be accompanied by a shipping ticket. Please fill it out carefully to prevent confusion and, above all, to speed up the process. Simply enclose this shipping ticket with your return shipment. We have deposited the corresponding form online. You can fill it out on your PC and then print it out. An important note: The collection order does not replace the shipping ticket and vice versa.
Selling toner to Geldfuermuell - What do our customers say?

Service is written in capital letters at geldfuermuell.de. It is very important to us that our customers feel they are in good hands. Now we could simply claim that the majority of our consignors are satisfied with our services, but we can also prove it! In our opinion, the opinion of our customers (see rating seal) is proof of our reliability and perfect service. Perhaps you will soon be one of our customers too, we would be delighted to be able to convince you with our disposal service. If you have any questions, please contact us, we will be happy to inform you in detail.