Toner recycling with Geldfuermuell
Earn money with active environmental protection
Printer cartridges, toner and ink cartridges are regularly used in the home and in the office. However, when the cartridges are empty, they often end up in the rubbish. What many people do not know: This means that many valuable resources are lost, which can be preserved if they are disposed of properly with recycling. geldfuermuell GmbH is committed to this concept. It has been buying up old printer cartridges and toner cartridges since 1998. In return, the suppliers not only receive remuneration, but also the certainty of actively participating in environmental protection and doing something good for the environment with toner recycling.
What are the advantages of toner recycling?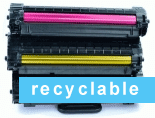 Professional and modern toner recycling not only protects the environment, but is also economically interesting. Nowadays, environmental protection is becoming increasingly important for private individuals and companies alike. Nevertheless, a company must of course also work economically and make a profit. The practical thing is that toner recycling cleverly reconciles both factors. By sending in the old original toner cartridges, you not only do something good for the environment, but you also receive remuneration. If, on the other hand, you throw the old cartridges in the bin, you receive nothing for their disposal and also miss out on a valuable and simple opportunity to protect the environment.
Environmental protection with toner recycling
People's awareness of environmental protection has increased significantly in recent years. Campaigns by the government and environmental protection organisations, as well as visible changes in the climate, for example, have clearly shown people how important the issue is. for this reason, a change in thinking has also taken place. Because today we know: The raw materials of our planet are limited and are gradually, slowly running out. Only consistent environmental protection and recycling can help to reduce this consumption and protect the planet and save important raw materials. Nevertheless, numerous toners and cartridges still simply disappear in the rubbish. Out of ignorance or also out of convenience. In this way, our planet loses important raw materials in an unnecessary way; yet with toner recycling it would be so easy to recycle these resources and thus actively contribute to the protection of the environment. Join us! Send us your empty cartridges and toners for professional toner recycling, as around 40,000 customers already do on a regular basis. This way you do something good for the environment and at the same time get money for your "waste" in the cash register.
Sell old sorted* printer cartridges!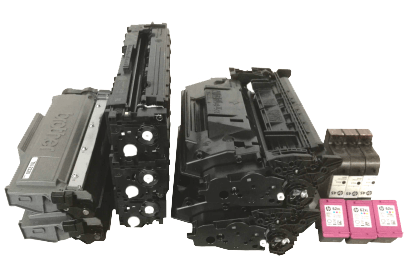 * Sorted by manufacturer and model, Purchase according to our buying price list.
Dispose old unsorted* printer cartridges!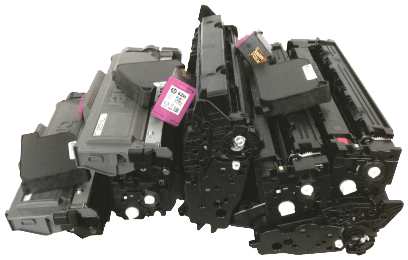 * Disposal of all Original Equipment Manufacturer modules, transport paid by sender.
---
Toner recycling with Geldfuermuell GmbH - This is how extra money comes into the till
Even though environmental protection is often an important factor for toner recycling, environmental protection is not the only priority for our customers. It is only normal that every person - whether a company or a private individual - also acts in terms of economic efficiency. With geldfuermuell GmbH, both points can be easily combined. Why? We pay you a remuneration for most of the toner cartridges and cartridges you send in. In contrast to disposal via the rubbish, you thus receive cash for your waste products and also protect the environment. The remuneration depends on the toners and cartridges and their model. On our website, we will inform you in detail about which cartridges and cartridges you will receive remuneration for within the scope of toner recycling and how high this remuneration is.
What happens to cartridges that cannot be used for toner recycling?
Not all toners and cartridges are suitable for remuneration. The reasons can be many and varied. For example, it may be that the cartridge cannot be refilled via toner recycling due to its design. In addition, only cartridges that are original from the manufacturer can be purchased for toner recycling. Unfortunately, neutral cartridges or copies cannot be purchased within the scope of toner recycling.
We carefully check all incoming cartridges and then inform you whether toner recycling is possible or whether we had to dispose of defective cartridges. With toner recycling, geldfuermuell GmbH offers both environmental protection and economic interests an interesting and lucrative option.
Why is toner recycling important for environmental protection?

A common question or problem that many people face is doubt. The question of how the proper disposal of a single cartridge can contribute to environmental protection when hundreds of other cartridges end up in the rubbish. This question is justified, but the thinking is wrong. Certainly, many cartridges still end up in the rubbish without being disposed of and are thus lost for toner recycling. But: Here, too, you should think of yourself first and make a start yourself. If everyone thought like you, there would probably be no environmental protection at all and our planet would slowly but surely be destroyed. Beyond that, however, you simply have to think a little further ahead. How many cartridges and toners do you use at home or in your company per month or per year? This certainly adds up quickly to larger quantities. So toner recycling is not just about a simple cartridge that can be disposed of, but about the total amount. Collect your cartridges and send us several cartridges together or take your time and send us individual cartridges. Either way, you will be helping to protect the planet and saving valuable resources. As already mentioned, you also earn money this way, because unlike disposal in the rubbish, geldfuermuell GmbH can pay you an appropriate remuneration for your cartridges and cartridges. By participating in toner recycling, you are making a very personal and extremely important contribution to environmental protection. We are a certified specialist disposal company and see recycling and responsibility for the environment as our most important duty, offering you a unique opportunity to dispose of your cartridges sensibly and in the interests of the environment.
Environmental protection and toner recycling start where the waste is generated
Toner recycling - like any form of recycling - is best started where the waste is generated. That is, in your office or business, or even in your home. As a first measure, you can reduce toner consumption by reducing the number of documents you print. This way you will not only save ink but also paper and contribute twice to environmental protection. Nowadays, most documents are sent digitally. Printing is therefore only necessary in certain cases. So always ask yourself whether printing really makes sense. If the toner cartridge is finally used up, think about professional toner recycling. As you know, disposing of it in the trash is not an option. The only sensible solution is professional toner recycling! Only through proper toner recycling can you choose to recycle the cartridge or dispose of it properly and help the environment. At the same time, you have the opportunity to earn money with your old cartridges in this way.
Sustainable environmental protection through professional toner recycling
Geldfuermuell is clearly committed to professional toner disposal. In this way, we make a sustainable contribution to the protection of our environment and the conservation of our planet. The keyword for us here is "urban mining". The term refers to the recovery of resources and raw materials from waste and their subsequent recycling. The production of toners as well as numerous other products is increasingly adapted to this principle and "urban mining" is also regularly applied to toner recycling. However, the success of the project depends more than ever on the environmental awareness and participation of consumers. Because you and your fellow human beings are the ones who, by recycling toner correctly, help to ensure that the resources are available for urban mining. Don't leave your old cartridges to their fate or to chance. Trust an expert - trust us, Geldfuermuell GmbH and actively help to protect the environment!
Advantages of toner recycling with Geldfuermuell
When recycling toner with Geldfuermuell, you benefit from our experience and our technology. With trained employees and modern technology, we guarantee professional toner recycling with the highest efficiency and according to the most modern standards. In addition, we regularly improve our processes, develop them further and look for new methods to make toner recycling even easier and even better. To do this, we also focus on your needs as a supplier of the empties. To make your collection and toner recycling work as pleasant as possible, we offer you the following benefits:
Certified disposal of original toner cartridges
Remuneration for the most common models according to the purchase price list
Don't hesitate any longer. Take part in protecting the environment and turn your old printer cartridges into money with toner recycling.