Are old printer cartridges allowed in the residual waste or in the household waste?
Good to know:
One question we hear from time to time is: Can printer cartridges be disposed of with household waste? Short and concise answer: Better not! Since you are of course not satisfied with such a short and concise answer, we provide you with a detailed explanation on this page and tell you what obligations, but also opportunities, the correct disposal of printer cartridges and toner cartridges holds for you.
Recycling Management Act: Consumers have a duty
As early as 1994, the "Closed Substance Cycle Waste Management Act (KrWG)", in short: Recycling Management Act (KrWG), came into force. The latest amendment to the Act will take effect from 01.06.2017. The official aim of the legislation: "To foster the circular economy to conserve natural resources and to ensure the protection of people and the environment in the generation and management of waste." So far, so good - but what does this mean for consumers in terms of disposing of printer toner and toner? We explain it to you with the help of two paragraphs from the KrWG:
§ 7 Basic obligations of the circular economy: Producers or holders of waste are obliged to recover their waste. The recovery of waste has priority over its disposal. The obligation to recover waste shall be fulfilled insofar as this is technically possible and economically reasonable, in particular insofar as a market exists or can be created for a recovered substance or recovered energy.
§ 9 Keeping waste separate for recycling: To the extent necessary to comply with the requirements under § 7 (2) to (4) and § 8 (1), waste shall be kept and treated separately.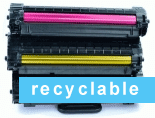 Instead of throwing toner and other waste into the bin, you are legally obliged to ensure that recyclable products, including many toner cartridges and printer cartridges, end up in the right hands or facilities and not in the grey/black bin with the rest of your household waste. And not only that: improper disposal can even result in heavy fines.
Fines for improper disposal of toners & printer cartridges
In principle, the guiding principle in life is: "Where there's no plaintiff, there's no judge". But if the plaintiff is suddenly "around the corner", things can get quite tricky in individual cases. This also applies to the improper disposal of printer cartridges and toner cartridges. Depending on the federal state, there are hefty fines. While in NRW or Baden-Württemberg it is (only) 50 to 100 euros fine per incorrectly disposed cartridge, in Bremen, for example, it can be up to 400 euros fine for discarded toner. If there are several cartridges or even toxic cartridges, there is even the threat of a fine of up to 2,500 euros. We think: This does not have to be! Instead of paying a hefty fine for (improper) disposal via household waste, why not simply earn money with your printer empties? This is clearly the better alternative, which not only benefits you, but also the environment and the ecosystem. Source: Catalogue of fines
The disposal alternatives for toner and printer cartridges
If you want to dispose of your printer cartridges and toner cartridges in accordance with the Recycling Management Act and avoid fines, they belong to either:
to the recycling centre,
back to the manufacturer,
e.g. to GeldFuerMuell!
Cash money for empty toners and printer cartridges
Although in principle you have the choice of which of the three above-mentioned options for disposing of toner cartridges you select, we would not like to deprive you of the advantage of selling printer empties to us:
Unlike at the recycling centre or manufacturer, you get money for many empty, recyclable toner cartridges and ink cartridges with us.
According to the law, as the "owner of waste" you are obliged to sort the supposed waste anyway. So throwing everything into a single container is a violation - and disposing of toner cartridges in the residual waste even more so.
Sell old sorted* printer cartridges!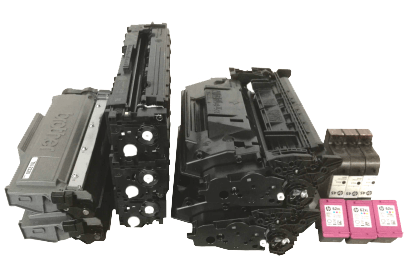 * Sorted by manufacturer and model, Purchase according to our buying price list.
Dispose old unsorted* printer cartridges!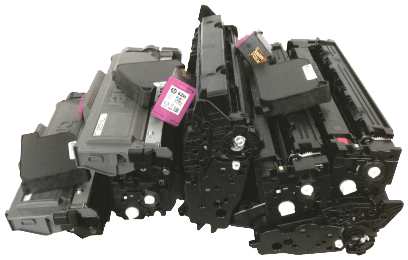 * Disposal of all Original Equipment Manufacturer modules, transport paid by sender.
---
You may be wondering what happens to the printer empties you sell to us afterwards. Because if you are already complying with the legal obligations, you naturally also want to make sure that the environment is actually relieved - even if you are paid for it. We understand this and would therefore like to provide you with the answer to this question in the following section.
Recycling printer cartridges & toners: Here's how it works!

The recyclable printer cartridges and toner cartridges are sorted, thoroughly cleaned and then refilled with a high-quality ink specially adapted to the respective printer. Depending on the product, wear parts are also exchanged and replaced with parts of even higher quality.
Good for the environment
By selling these so-called refill and rebuild cartridges, immense amounts of petroleum can be saved annually, which would otherwise be necessary for the new production of toners and cartridge housings made of plastic. The double advantage: the alternative products are far cheaper than the printer accessories of the original manufacturers.
Refill printer cartridges
Refill(ed) ink cartridges or toners" are refilled original cartridges. The cleaning and refilling of the products is carried out according to strict guidelines, which offer almost identical quality to the original product. Each cartridge is refilled only once and subjected to a function test before it goes on sale. The only difference: refill printer cartridges are usually a lot cheaper than comparable OEM products.
Rebuilt Toner
The term "rebuilt" refers primarily to toner cartridges. All moving parts within the toner cartridge are replaced with new parts. With this form of toner recycling, you as a consumer receive a product that is almost as good as new and often offers better performance than the original product. The price is also significantly lower here. Tip: Only buy rebuilt products from experienced and well-rated dealers. With dubious cheap offers, the cartridges have often only been refilled with new toner powder.
Only original empty toners please!
In order to guarantee the high quality of the recycled toners, we have only been buying empty original cartridges since the beginning of 2017. Background: Up to the point when we at GeldFuerMuell started buying recycled toners in addition to original toners, we were increasingly offered cartridges that had already been so "ruined" by unprofessional refilling that further recycling was not possible. Since sorting out and disposing of these products takes a lot of time, which we would like to save in order to be able to continue to offer you top prices for your printer empties, we ask you to ship only original toners to us.
Purchase prices for printer empties
Convinced? Very good! If you would like to know how much money you will receive for your empty toner cartridges and printer cartridges, simply download our price list as a PDF. Depending on the cartridge, we will reimburse you up to 20€ per piece! Empty printer cartridges are a little less, but even here we pay up to €4.50 per cartridge for your empties.
FAQ on the disposal of printer cartridges and toners
Finally, we would like to give you clear and unambiguous answers to the most frequently asked questions in connection with the disposal of toners and printer cartridges, so that you always make the right decision:
"Are empty toners considered hazardous waste?"
No! Toners do not belong to hazardous waste, but must still be disposed of separately.
"Can printer cartridges be disposed of in household waste?"
No! Disposing of printer cartridges, as well as toner cartridges, with household waste is not permitted. The reason: According to the Closed Substance Cycle Waste Management Act (KrWG), consumers are obliged to treat waste separately to ensure possible recycling. Since empty (original) toners and printer cartridges are recyclable, such products must go to the recycling centre, back to the retailer or to certified providers such as GeldFuerMuell. However, you can only earn a little (or even a lot) of pocket money with us.
"Are there fines for disposing of toner cartridges in residual waste and how much are they?"
Yes! Not only do the fines exist, but they can definitely be described as "hefty". Depending on the federal state, the fines are up to 400 euros for a single cartridge disposed of in the residual waste. If several cartridges are disposed of improperly, the fine can be up to 1,000 euros. If toxic cartridges are thrown away, the fine is even higher: the legislator estimates a fine of up to 2,500 euros.