Toner disposal and recycling
Sustainable benefit:
The issue of toner disposal affects everyone at some point who operates a printer, fax machine or copier on their own responsibility. In offices and especially in private households, one often finds the popular combination devices in which the functions of printing, copying, scanning and faxing are combined. The first thought is that only one printer cartridge is used here, instead of a single toner cartridge for each device. One thinks that materials such as toner and plastic (cartridge) would be saved. However, this is only half thought, because if you take this thought to its logical conclusion, you will soon realise that more toner is used, which means that the printer cartridge will be empty more quickly, and there it is again - the question of how best to dispose of toner in an environmentally friendly way.
At some point, every toner is empty and the issue of disposal arises.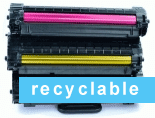 The climate, the environment and resources are in danger! This is known to everyone who is even a little concerned with the general environmental problem. Every private person and every company has a duty here. Especially in the office and in the organisation of office supplies, it is actually quite easy to put environmental thinking into action. If it only remains to recognise the problem, but no action follows, nothing will change in the long run. A sober figure that impressively proves this situation: About 85% of all used printer cartridges end up in the rubbish! Yet disposing of toner cartridges in an environmentally friendly way would be quite simple. It only costs a few minutes more than it would take to go to the waste bin. But it also opens up an opportunity to enjoy financial benefits.
With toner disposal via Geld für Müll GmbH, you can protect the environment sustainably and benefit yourself at the same time. You can combine benefit and sustainability.
Toner disposal in the commercial sector

Printers are used in every company, institution and self-employed office. The issue of toner disposal arises with nice regularity. Make it a habit not to simply throw empty cartridges from printers and copiers in the rubbish, but to collect them. Separating and collecting waste has long been second nature to all of us. Glass, paper and packaging are disposed of separately as a matter of course and collected in designated containers beforehand. Why don't you set up another collection container for empty printer cartridges in your company and inform your employees that they can dispose of toners used at work as soon as they are empty? One or two employees will certainly bring a used printer cartridge from home and dispose of it in an environmentally friendly way via the collection container in the company. It is very important to collect office waste from the very beginning. Then nothing stands in the way of reusing the recyclable materials toner and ink. And this is definitely preferable to throwing them away.
As soon as the collection container is full, instruct an employee to send the toners to Geldfuermuell for disposal - or lend a hand yourself. The proceeds from the sale of the cartridges will benefit your company! This allows you to generate additional income and at the same time you have made a practical contribution to sustainable environmental protection.
Toner disposal in the private sector
How many printer cartridges are used in your home? I'm sure it's more than one per year. If you include the empty cartridges of your neighbours, your friends and your children's friends, it adds up to quite a number of empty cartridges, which can bring in money through Geldfuermuell's toner disposal. Collect all you can get and send us your package transport-safe packing. You only want to sell your own cartridges? Gladly! We also take individual toners for disposal and buy recyclable printer cartridges, piece by piece! No matter whether you want to sell every single ink or toner cartridge or whether you want to become a top seller as a collector - in all these cases we are your reliable partner for responsible toner disposal - and for your financial benefit!
Disposing of toner via Geldfuermuell helps protect the environment and brings economic benefits to our customers.
How does this work in detail? You can find out more about this here:
Sell old sorted* printer cartridges!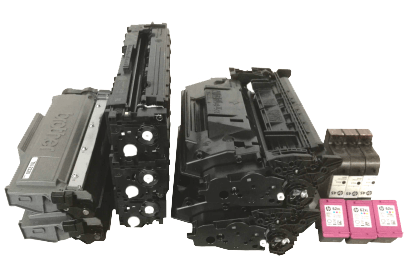 * Sorted by manufacturer and model, Purchase according to our buying price list.
Dispose old unsorted* printer cartridges!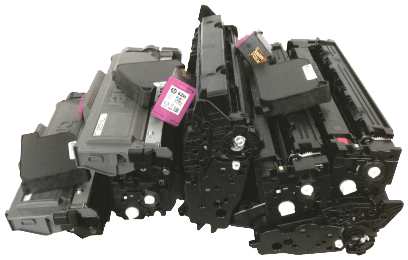 * Disposal of all Original Equipment Manufacturer modules, transport paid by sender.
---
Toner disposal for fast
If you still have concerns about whether disposing of toner via Geldfuermuell might not take too much time, we can certainly dispel your worries. We have done the test with the stopwatch: even if you are in a hurry, you can dispose of toner in an environmentally friendly way.
For a sustainable toner disposal you need on average
12 seconds for the finding out your toner model
3 minutes and 10 seconds to packing
8 seconds for the send to geldfuermuell
The bottom line is that it takes 3 minutes and 30 seconds to dispose of toner - only throwing it in the trash would be faster. Are you in the middle of something?
Time is money - earn money with sensible toner disposal
So now you know how little time you have to spend on sensible toner disposal. Please take a look at our purchase prices now.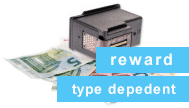 Have you seen it? For some brand models that are particularly in demand on the market, we pay up to €20 per empty cartridge. But even with the empty cartridges that fetch lower purchase prices, your financial advantage can be seen very quickly. Again: You spend about three and a half minutes to earn money with toner disposal via Geldfuermuell. There are few easier ways to boost your household budget or improve the revenue side of your company's balance sheet.
Transparent toner disposal - facts and figures
There is no need to study toner disposal. But if you want to know exactly, you can get it here in black and white:
In an average of 3 minutes 30 seconds per customer, or a total of 1283 hours or 53.5 days, our 20,000+ senders each year have sent over a million used toner cartridges to us for disposal, saving around 40% CO2.
In order to make toner disposal as easy as possible for you, so that the toner does not end up in the rubbish and environmental protection can also be consistently taken to heart in the office, we offer you a very simple method. It is completely uncomplicated and the benefit for the environment is huge! Join us and help us to ensure that in future considerably more empty printer cartridges remain in the recycling system.