Selling empty toners = recycling and profit in one!
Know how:
Empty toners hold great potential. However, due to their complex composition of materials, these can only be exploited with intelligent recycling. By making empty toners available for professional and reliable recycling, environmental and raw material resources can be safeguarded.
The GeldfuerMuell collection system offers attractive options for multiple reuse of empty toners. We show you the most important ones here:
You can sell empty toners to us or donate them to important aid projects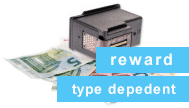 We stick a price tag on empty toners. Our driving force is the principle of "recycling instead of disposal". The overriding goal is to protect our environment. We boost the recycling and remarketing of empty toner with remuneration at market rates. Alternatively, we offer you the option of donating your recyclable empty toner directly to an aid project.
You can get involved in the wide-area collection of empty toners and empty modules
With our excellent collection system, you can volunteer to set up collection boxes. Nationwide, thousands of offices, schools and businesses are already populated by our collection boxes. The collection of empty toner modules is as simple as it is effective. Associations, youth organisations or charitable institutions take care of the expansion of the collection network on a daily basis - after all, 90% of empty toners are still disposed of in the rubbish bin nationwide. What will it be for you:
More information? How the purchase of old printer cartridges works with us...
---
Why empty toner becomes new toner
Reused empty toners are around 45-60% more environmentally friendly than those used only once.
Recycled toner modules are significantly cheaper than original toners.
Besides the irretrievable loss of your remaining usage potential, empty toners disposed of prematurely also carry risks: They produce toxic emissions in the incinerator.
The range between environmental damage and environmental benefit is huge, especially with empty toner. Get the ball rolling and save empty toner from disposal. We offer the right collection system.
Save your empty toner cartridges from disposal. And to make it worthwhile not only for the environment but also for your wallet, we provide remuneration for the most common models. Use our handy search function at the top of the page!