The best way to sell empty ink cartridges is to sell them to Geld für Müll GmbH
The worthwhile idea:
You are considering selling empty ink cartridges and are looking for a reputable, efficient and trustworthy partner to do so? May we briefly introduce ourselves? We are Geld für Müll GmbH and recycling, service and transparency are our strengths. We are convinced that we can offer you the best conditions for doing business with each other.
Why is that? Let's let the facts speak for themselves:
We have been in the recycling business since 1998. More than 40,000 customers regularly supply us with empty ink cartridges, sell us their empties and collect remuneration for them. Trained specialists are employed in our company to sort the consignments from our customers. Defective empties are separated from printer cartridges that can still be used. Functioning cartridges are reprocessed, refilled and returned to the trade.
It pays to sell empty ink cartridges to us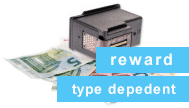 By 2019, we had already paid out the incredible sum of over 20 million euros to our customers who sold us their empty ink cartridges. Many of our customers are regular customers, which means they regularly collect empty toner cartridges and send them to us for purchase. Some are top sellers and send us well-filled packages on a nice regular basis, others sell us single empty ink cartridges. Each consignment is carefully checked by us. We recycle as much of it as possible and pay the sender a handsome remuneration.
Selling empty ink cartridges is a matter of trust - you can trust us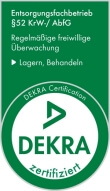 As a recycling service provider, our company guarantees responsible handling of the empties that are entrusted to us for purchase. Our commitment to the environment is our top priority, on a par with the high service standards that our customers rightly expect from us and which we fulfil. In order to ensure constant quality, we are not only obliged to comply with the Recycling and Waste Management Act. We are also authorised to store and treat waste as a DEKRA-certified waste disposal company. In order to obtain and MAINTAIN certification, our company must meet certain requirements in terms of organisation and equipment. In addition, the reliability and competence of the staff are assessed during the inspection. Our services are geared to the latest status of the applicable legislation, whereby we of course also meticulously observe the environmental technical standards.
Download certificate waste management company
Our customers keep selling us empty ink cartridges
Consumers who want to sell empty ink cartridges are happy to turn to us. The satisfaction of our customers is expressed through recurring use of our service, and trust can also be proven in words and figures. But the performance of a recycling service is not only reflected in the amount of revenue generated from the sale of empty ink cartridges - the hardest currency by which you can measure a recycler. You can tell by the satisfaction of our ink cartridge collectors what we do in return for customers selling us their empty ink cartridges. And not just once, but again and again.
Why more and more customers trust us and sell us their empty ink cartridges:
"...Prompt and absolutely correct."
"...very serious business partner!!!"
"...good purchase prices..."
These are the reactions of our customers. Geld für Müll receives the best ratings in the industry for processing and sales revenue. The fact that the vast majority of our customers are even very satisfied is shown by the results of our ongoing survey: over 97% stated that they are satisfied with our service and would be happy to use it again.
Here are the main reasons why you should sell your empty ink cartridges to us:
We are a DEKRA-certified waste management company
We employ very well trained staff
We have many satisfied regular customers, private individuals and companies
We have already paid out more than 20 million in remuneration
Do you have empty ink cartridges for sale?
We deliver what we promise: You sell your used cartridges and empty ink cartridges to us for good money, full confidence and even free shipping if necessary. What do you think?
More information? How the purchase of old printer cartridges works with us...
---
Selling even more empty ink cartridges - more empties, more recyclables, more profit
Become a hunter-gatherer: Those who have more goods to sell - empty cartridges, ink cartridges, printer cartridges - profit more. Our Newsletter will keep you informed about how to increase your empties collection balance.
Become a top seller and sell us even more empty cartridges

Every empty ink cartridge you have for sale counts. You are welcome to send us individual printer cartridges and we will reimburse you in a few days. But you can also collect them and send us a well-filled package. As an ink cartridge collector, you secure a pleasant additional income and benefit in every respect from our service for top sellers. When you reach a certain purchase value, you send us your delivery free of charge and, from a certain quantity, we also collect your empty ink cartridges from you. Give us your pallet collection order - it couldn't be more convenient!
You will receive this amount if you sell us empty ink cartridges:
Now you probably want to know how much the remuneration is when you sell us empty ink cartridges. To calculate the remuneration, simply use our purchase list. Please have the article number of the empty cartridge ready. This is usually located directly on the cartridge or on its packaging. We constantly update the purchase prices for empty ink cartridges. They are based on the respective market value, which may be subject to monthly fluctuations.
Can you also sell us empty ink cartridges that you don't find on the list?
No, unfortunately that is not possible. Sometimes we are unable to purchase individual items. Defective cartridges cannot be refilled and are therefore not available for recycling. This also applies to cartridges from certain brand manufacturers that are technically designed in such a way that they cannot be refilled. We also cannot buy cartridges for which there is little demand on the market.