Disposing of ink cartridges is worthwhile for you and for the environment
Let us convince you of the many advantages:
The disposal of ink cartridges should be an issue that concerns us all. We believe that much more could be done to dispose of empty ink cartridges in an environmentally sound way than has been done so far. However, we need everyone's cooperation to do this - to be more precise, it is not WE who need something, but the environment! It depends on people being responsible, willing to think a little and change their previous actions. We would like to show you here how easy it is to participate, that it costs nothing but on the contrary even brings financial advantages and how high the benefit for the environment really is. In the hope that we will soon be able to count you among our customers.
Sensible disposal of ink cartridges helps the environment
When we approach you and ask you to change your current behaviour when disposing of ink cartridges, it is not meant to be an advertisement for our company. We are primarily concerned with reducing the incredible amount of empty ink cartridges that are regularly thrown away. Between 85 and 90% of all printer cartridges end up in the rubbish and thus in the incinerator. All the raw materials used to manufacture the cartridges are thus consigned to destruction. Does it really have to stay that way? We think so: NO!
Sell old sorted* printer cartridges!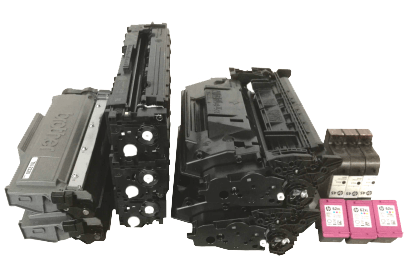 * Sorted by manufacturer and model, Purchase according to our buying price list.
Dispose old unsorted* printer cartridges!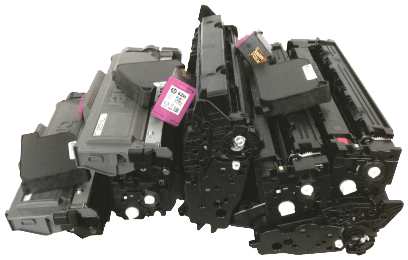 * Disposal of all Original Equipment Manufacturer modules, transport paid by sender.
---
Economic benefits for our customers in the disposal of ink cartridges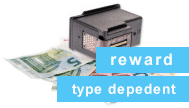 We'll keep it short and sweet: sell us your empty cartridges and we'll pay you remuneration!
Geld für Müll GmbH is the right contact as a disposal company for ink cartridges etc.
Of course, we still want to do a little advertising for Geld für Müll GmbH here. We don't need to hide either, because as a certified waste disposal company we have been established on the market since 1998. The number of customers who send us their empty ink cartridges for disposal is constantly increasing. This is no coincidence. We are a company where service and reliability are still written in capital letters. Our head office is in Germany/Bavaria and there we employ about 20 people who personally take care of the empty cartridges sent in. In case of customer questions, problems and information needs, we are always there with our expertise - we love to share our knowledge about environmental protection and recycling.
Perhaps you are now thinking: "Paper is patient and they can tell me a lot". But the voices of our satisfied customers will convince you. The majority of them are in favour of our service and would recommend it. But there are other tangible proofs that we are your right contact for the disposal of ink cartridges. The DEKRA certificate, for example, is one such indication. We also gear our in-house processes to meticulously observed quality management, because we want to
economical,
environmentally conscious and
acting in the best interests of our customers.
How does the disposal of ink cartridges via Geldfuermuell work?
It's really quite simple. Instead of throwing the empty printer cartridges in the bin as you might have done in the past, collect the empties in a specially designated bin. However, you can also send us just one used cartridge if you don't feel like collecting or don't have the space to store it. Suitable for collection are
Printer cartridges
Ink cartridges
Toner cartridges
Drum units
If you have collected enough or feel that you would now like to proceed to the disposal of a single ink cartridge, fill in our delivery note, pack the consignment in such a way that no transport damage can occur and then take the package to the post office. If you have collected a lot and there is enough for a pallet, you can also order a collection by us. Above a certain value of goods, we also contribute to the shipping costs.
And what happens next with the disposal of ink cartridges?
As soon as we receive your package, our staff take action. The contents are sorted out, we separate reusable cartridges from non-recyclable material and recycle the cartridges that can be refilled in an environmentally friendly way. Settlement with the consignors is prompt. As we work transparently, you can also access your personal statement on our website at my GfM. Within 7 working days, the entire process from receipt of goods to bank transfer is completed.
Which ink cartridges can be sent to us for disposal?
All of them! However, we admit that we cannot pay remuneration for every cartridge. We only buy undamaged cartridges, and besides, they have to be reusable. Now you may ask why an undamaged cartridge cannot be reused anyway. The answer is: some brand manufacturers produce ink cartridges with technical requirements that make refilling impossible. But there are also cartridge types for which there is too little demand on the market. Unfortunately, we cannot buy such products either. It is best to dispose of such printer cartridges at your local recycling centre.
What happens if you do not have suitable packaging material at hand for the environmentally friendly disposal of ink cartridges?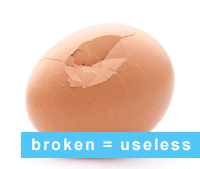 Disposing of ink cartridges via Geldfuermuell requires secure packaging. The contents should reach us undamaged, because only then can we complete the ink cartridge purchase. We cannot remunerate manufacturer types that you find on our comprehensive purchase lists for old printer cartridges, send them off in undamaged condition, and which suffer damage in transit. So it all depends on the packaging. We give you tips on how to pack your goods safely for transport!