Empty cartridges and printer cartridges are best disposed of via us and not in the rubbish!
Dispose of printer cartridges - but not in the rubbish!
We provide you with five arguments to help you understand why you should not dispose of your empty printer cartridges but have them recycled through us:
We are a certified waste management company
We offer an environmental service that you can benefit from
We promote your commitment to a clean environment
We make an active contribution to reducing your printing costs
We will remunerate you for sending in refillable printer cartridges
Every year we remunerate the collection of empty printer cartridges with several hundred thousand euros. So don't waste recyclable materials and send your empty inks and toners for certified, environmentally friendly treatment and recycling. Find out more about an environmentally friendly alternative if you want to dispose of printer cartridges:
Sell old sorted* printer cartridges!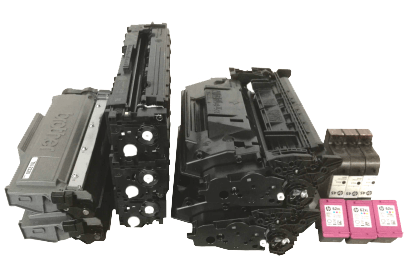 * Sorted by manufacturer and model, Purchase according to our buying price list.
Dispose old unsorted* printer cartridges!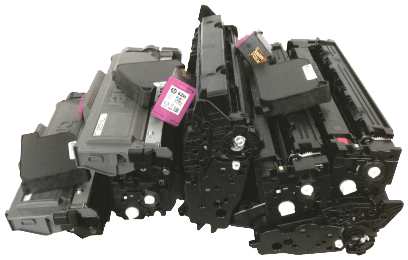 * Disposal of all Original Equipment Manufacturer modules, transport paid by sender.
---
As an economically active company, we are interested in satisfying our customers. Therefore, we are always working to learn about, respond to and safeguard the interests of our customers. With this motivation behind us, we constantly optimise our services and work processes to achieve our goal. Last but not least, this is also the reason why we introduced a management system for quality assurance, occupational safety and environmental protection according to the guidelines of the "Qualitätsverbund umweltbewusster Betriebe" (QuB) in 2011.
If you do not dispose of your empty printer cartridges, but leave them with us for recycling, you are making a valuable contribution to the environment.
As a DEKRA-certified specialist disposal company, we are focused on ensuring that all our work processes are geared towards environmental protection as our primary goal. You as a consumer can therefore be sure that you have chosen a competent and reputable partner if you do not want to dispose of printer cartridges but instead want to have them professionally reused and recycled.
Send us your printer cartridges for disposal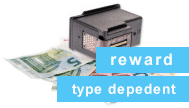 In order to be able to make a statement about the amount of possible remuneration, it is necessary to determine the type of empty printer cartridges you wish to dispose of. Please read our detailed instructions. You will learn, among other things, that we cannot pay remuneration for every empty ink cartridge. This is because only certain types and brands of cartridges can be recycled. Some cartridges unfortunately fall out of the recycling chain. Such non-recyclable printer cartridges and toner cartridges are best disposed of through their suppliers or your local recycling centre. No empty cartridge should end up in the trash!
Which printer cartridges do you want to dispose of?
Most cartridges that we are unable to purchase are not suitable for refilling with ink material due to their structural design. However, there are cartridges for which there is reduced demand and which are not recycled for this reason. You can find out here which cartridges you can dispose of through us for a remuneration. We would like to point out once again that you can also dispose of such original printer cartridges (see manufacturer list) through us for which you cannot receive any remuneration. Do the environment a favour and send us such empties anyway. You do not have to dispose of empty cartridges in the rubbish!
If you are unsure whether your used printer cartridges that you want to dispose of are suitable for recycling, we have compiled a small list of information on this topic below. Do you want to
Dispose of original printer cartridges?
A printer cartridge produced by the printer manufacturer itself and not yet refilled has a high residual value. After a single use, the material of the cartridge is far from being tired. There is no reason to dispose of such printer cartridges without reusing them. Therefore, treat these empties like new goods and never dispose of them in the residual or office waste.
Dispose of recycled printer cartridges?
You may be holding a cartridge that has already gone the way of reuse and recycling once. Again, most parts of a refilled printer cartridge can be reused. Therefore, you should definitely also return recycled ink cartridges to the value cycle. We treat recycled cartridges in such a way that almost all parts can be recycled and thus ensure that the valuable recyclable materials are preserved.
The environmental factor is certainly very high when it comes to disposing of printer cartridges. But you as a consumer can also benefit if you do not simply throw away your empties, but instead ensure that they are properly and gently recycled, or recycled wherever reuse is possible. This is where our reimbursement scheme comes into play again. Every empty cartridge can be worth hard cash, provided it is on the list of recyclable cartridge types. We provide you with this list in a constantly updated version. With just one click you can access the list, from which you can immediately see whether we can buy your used cartridges and at what price. Don't miss the chance to turn your leftover cartridges into cash instead of simply throwing them away. Or in other words, don't throw money in the rubbish by disposing of printer cartridges instead of selling them to us.
We support you when you want to dispose of your empty printer cartridges
Geldfuermuell is the pioneer in the field of printer cartridge disposal and recycling. Support us in remaining so. Send us your empty cartridges for professional disposal. We not only dispose of all recyclable printer cartridges, we even remunerate the cartridges according to the values on our purchase price lists. The value of printer and ink cartridges is sometimes underestimated. It is often said: small but mighty - with up to 5 euros per piece in remuneration, the value of printer cartridges from inkjet printers can really be impressive. Thanks to the compact design, shipping is very easy: all you need is a suitable (preferably padded) envelope, add a delivery note, put a stamp on it and send it off to the post office!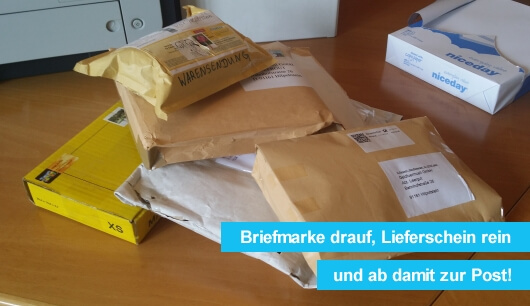 You can easily dispose of ink and printer cartridges by sending them in an envelope or XS parcel.