Convenient purchase of printer cartridges for recycling & reuse
Only with geldfuermuell:
Geld für Müll GmbH is a serious and reliable partner for the purchase of printer cartridges for all customers. We have been active in the recycling industry since 1998. At our location in the beautiful Franconian Switzerland/Germany, our employees carefully take care of the packages sent to us by our customers for the purchase of printer cartridges on a daily basis. Many of them are regular customers and we also take care of some collectors. You too can become a top-seller and earn good money at the same time. We offer you a convenient purchasing service and this is one of the things that sets us apart from other waste disposal providers. You are guaranteed to get your money's worth when it comes to geldfuermuell - and you can take this statement literally. Just one example: empty printer cartridges, which are particularly valuable for recycling, are even remunerated with up to twenty euros per piece!
We recommend a look at our purchasing instructions. To ensure that everything runs smoothly, you may be able to save yourself some malpractice:
More information? Buying ink and toner from us is as simple as that...
---
Our offer for the purchase of empty printer cartridges

When purchasing printer cartridges, the same applies as to all other internal processes in our company: openness pays off. From experience, and because we have been buying and recycling used ink and printer cartridges for many years, we disclose everything: Prices, background information, environmental and economic data and even criticism - because environmental services in particular need transparency.
You will find the value of your empty printer cartridge on the purchase list, which you can access with a single click. Where exactly on the scale of values your printer cartridge is located, we make it clear. Unlike tables for used vehicles, for example, our lists give you the concrete value for your printer cartridge. As the current market value is subject to certain fluctuations, we adjust the table monthly. Do you already know our offer ?
Why you can trust us when selling printer cartridges
What really counts in the purchase of printer cartridges besides good prices, our customers experience again and again: complete information, competent, friendly service and conditions from which both sides benefit: All this earns us top marks.
Do you already know the ABC formula for selling printer cartridges?
A purchase prices, B user-friendliness, C customer Care
A as purchase prices for empty printer cartridges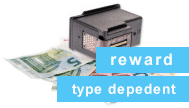 We do not promise fantasy prices for the purchase of printer cartridges and we also hold back with other superlatives in advertising. Our aim is to make our service transparent and convince with facts. Take a look at our price list for the purchase of printer cartridges and convince yourself of our realistic conditions. The purchase values you will find there correspond to the current market value of the respective cartridge. No more and no less.




Our customers want to be able to sell empty printer cartridges quickly and easily. We have therefore designed the usability of our website in a clear and concise manner. No matter which page or subpage you land on, you will immediately see where you are going. With just a few clicks you can access information about buying printer cartridges and the process itself. All information, tips and above all background information on environmental protection and other topics are just a click away.

.


The best possible support of our customers is part of our concept. It is not without reason that we subject ourselves to the requirements of a quality management system that is geared towards the optimisation of all processes in our company. At Geldfuermuell, consumers feel that they are in good hands, not least because the processing is transparent, our employees are highly trained and because we take our customers seriously.
Experience with geldfuermuell what can distinguish the purchase of printer cartridges - and what else you can achieve with it.
What is actually considered empties when selling printer cartridges?
Empty toner, ink and printer cartridges are divided into different categories:
For example, one speaks of original (virgin) cartridges if they were produced by an OEM printer manufacturer and are in circulation for the first time - i.e. have not yet been refilled. The printer cartridges of well-known brands such as Canon, HP or Brother achieve the best prices when purchased. It is therefore worthwhile to collect such original cartridges and offer them to us for purchase. You can read the valid purchase prices in the relevant list under the column Original empties.
Printer cartridges that have already been recycled, i.e. have received a refill, are considered Non Virgin, or Refilled cartridges. Often you will also read terms like "refill" or also "alternative cartridges". This refers to printer cartridges that were originally in circulation as original brand cartridges and have already been recycled once or several times by their users. The purchase prices for these printer cartridges can be found in the valid list under the column Refill Empties.
The third category of empty cartridges, can unfortunately not be offered for sale. These are the so-called neutral or compatible printer cartridges. These are ink cartridges that are not protected by patents and are therefore on the free market as replicas. But these are also licensed reproductions and modifications of cartridges. Unfortunately, there is no remuneration for these cartridges, because they cannot be reused. Neutral ink cartridges and compatible toner cartridges are best disposed of at your local recycling centre. As we do not know the composition and components of the compatible toner cartridges, we unfortunately cannot dispose of such toner cartridges for you!
Now you can start: Offer us your empty printer cartridges for purchase
When you have prepared everything for the purchase of your printer cartridges, determined the value on the purchase list, filled in the shipping ticket and packed the package for transport, the return shipment can start its journey. We check the contents immediately upon receipt and sort out usable from unusable items. Recyclable cartridges are sent for recycling. After refilling, they are returned to the trade and thus into the value cycle. Your remuneration will be transferred to your account within 7 working days. You will receive the bill by e-mail and can also be viewed under my geldfuermuell - because transparency is one of our priorities.
Do you participate? Then you can start right now